The new and modern hardware-in-the-loop test system µLC Test System is suitable for mobile application, measuring a compact 17 x 11 x 6 cm. Initial test setup typically takes under ten minutes, since the system allows for a simple test setup.
It is a compact open-loop test system for quality assurance of control unit development and combines the simulation of all typical automotive sensors and communication protocols in one unit. Its interface is user-friendly and enables an easy operation and evaluation.
The µLC Test System is especially used for automotive control units with typical interfaces for sensors and bus systems such as analog/digital inputs and outputs, PWM signals, SENT, CAN, LIN and speed sensors.
Features
User-friendly interface
Functions can be extended with Expansion Boards
Prepared for test automation
Favorable test setup, consuming low space
Simulation of typical automotive interfaces combined in one unit
Application
Engine Speed Simulation
Up to 20,000 rpm
Supported sensors: Hall, inductive, DG23i, TL4953
Up to 2 crankshafts, up to 4 camshafts

each is independently configurable
auxiliary shaft
-180 to 180° camshaft adjustment

Oscilloscope trigger signal for easier monitoring
Error simulation for engine position management EPM
Vehicle Busses
2 * CAN, up to 1 MBit/s,
switchable 120 Ohm CAN bus terminator
LIN Master/Slave
SENT, full J2716 Jan. 2012 standard
4 Outputs, alternative to PWM output
Analog Interfaces
8 * 10 bit DAC 0 to 5 V, max. 5 mA
Internal or external supply
4 * 12 bit DAC 0 to 5 V, max. 5 mA
6 * 12 bit ADC 0 to 40 V, GND reference
Digital Interfaces
6 * Digital Out, max. 200 mA in total
Output modes: Ground, 12 V, High impedance
2 * Relays, max. 10 A, separate ECU power supply possible and incl. main relay sensing
2 * PWM input, 1 Hz to 20 kHz
4 * PWM output, max. 90 mA in total,
0.1 Hz to 20 kHz
Output voltages: 12 V, 5 V, GND
Complex PWM with sub signals, each separately adjustable in frequency, duty cycle and pulse count
Additional Features
Throttle body simulation
Cylinder pressure simulation

Up to 8 cylinders with one device
Expandable with multiple devices

USB connection completely galvanic decoupled
All in- and outputs short-circuit protected and ESD protected
EMC tested
Expansion boards for additional HW features
Multi device support with sync option for engine speed signals
Test Setup

Note: Calculation intensive modules like cylinder pressure simulation can cause a limitation of e.g. the max. engine speed.
Technical Specifications
| | |
| --- | --- |
| Operating voltage | 12 V DC |
| Current consumption | typ. < 1 A |
| ECU voltage | 12 V / 24 V DC |
| ECU current | 10 A |
| Permissible operation temperature | 0 to 40°C |
| Housing material | Aluminum |
| Dimensions | 175 x 107 x 61 mm |
| Weight | 690 g |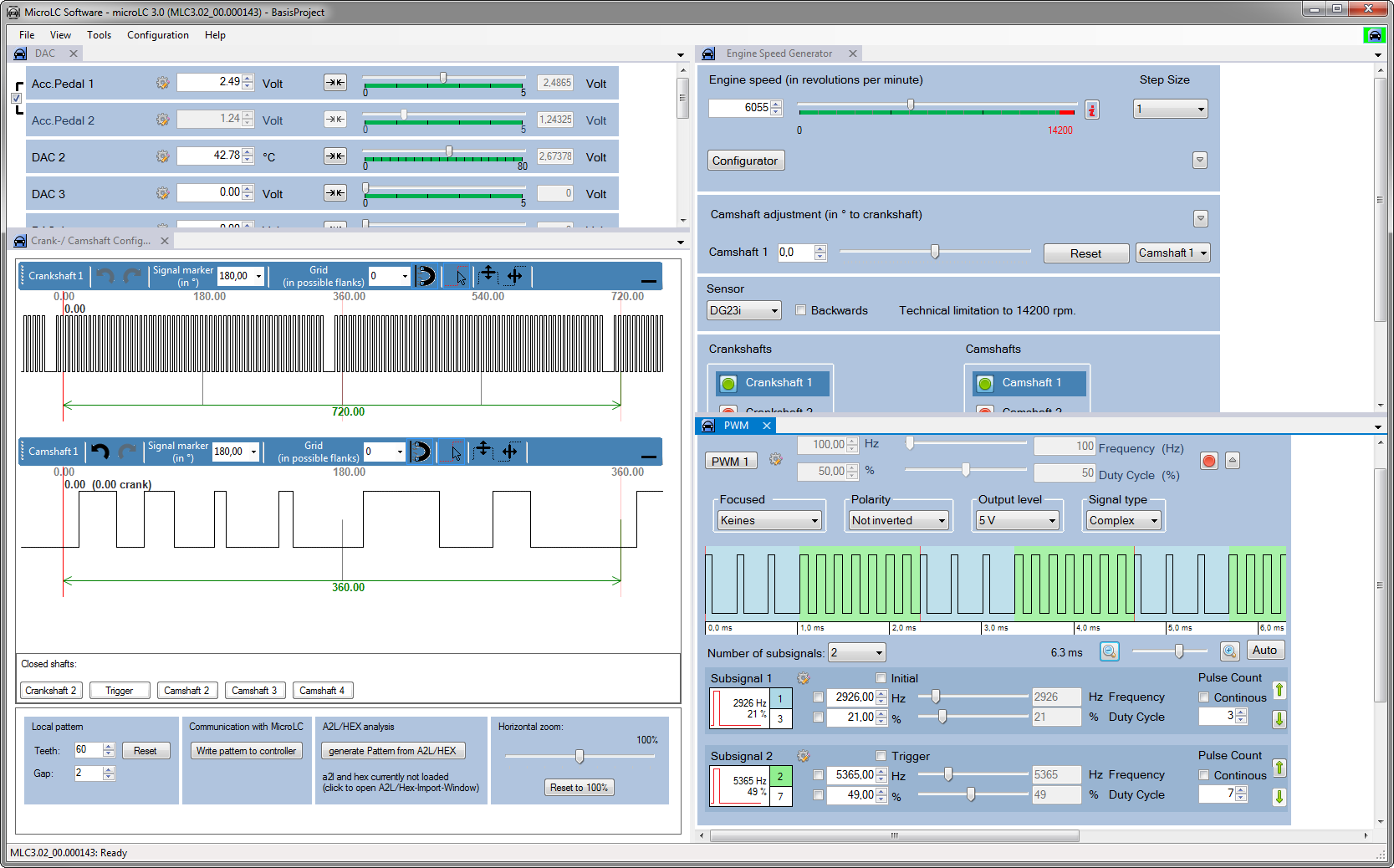 The screenshot shows the MicroLC Software with analog outputs, crank-/ camshaft, RPM and complex PWM.
Update and Support Subscription
Free in the first year of use, chargeable from the second year
Ordering Information
µLC Test System
Order number: F02U.V02.303-02
Software Options
Update and Support Subscription
Order number: F02U.V02.838-01
Accessories
Expansion Board CAN-FD
Order number: F02U.V03.095-01
Expansion Board Current Loop Interface
Order number: F02U.V02.889-01
Expansion Board Digital Multichannel Pot.
Order number: F02U.V03.129-01
Expansion Board Digital Outputs
Order number: F02U.V02.904-01
Legal Restrictions
The sale of this product in Mexico is prohibited.
Due to embargo restrictions, sale of this product in Russia, Belarus, Iran, Syria, and North Korea is prohibited.